HIGH TOLERANCE FORMULA
Specially developed as a mild facial scrub for people with skin problems or sensitive skin. This product is fragrance-free, dermatologically tested and hypoallergenic. 
For optimal effect, Gladskin Scrub is formulated with specific ingredients to be used in combination with Gladskin products containing Staphefekt™ for treating skin problems such as Eczema, Rosacea and Acne.
TEXTURE
Gel to milk texture when in contact with water.
HOW TO USE THE GLADSKIN SCRUB
WHEN TO USE
Use Gladskin Scrub once or twice a week.
HOW TO USE
1. Apply with wet hands to dry or slightly damp skin. 
2. Carefully massage the scrub in and rinse off with lukewarm water 
3. Gently dry your skin before applying our Medical devices according to your needs: ECZEMACT DM, ROSACEAR DM, ACNEFEKT DM.
TIPS
For optimal effect of your skin treatment, use complementary to active Gladskin products, containing the enzyme Staphefekt™, for inflammatory skin problems.
Gladskin Scrub is mild and kind to your skin.
The fine, spherical-shaped cellulose grains removes dead skin cells and softens your skin. The scrub also cleanses your skin by removing excess oil and dirt. Gladskin Scrub was developed to be used in combination with Gladskin medical devices containing Staphefekt™.  
Fragrance-free, and soap-free formula hydrates fragile skin and is free of any surfactants that can dry out your skin.
IMPORTANCE OF PRESERVING OUR MICROBIOME
Nature designed your skin with a built-in security system your skin microbiome. Just like your gut, your skin has an active microbiome - billions of bacteria that live on its surface. Almost all of these bacteria are good and contribute to a healthy skin. They should be left intact. When bad bacteria take over, many common skin problems arise. So it is important to choose skincare that protects your skin's microbiome.
GLADSKIN SCRUB RESPECTS THE SKIN MICROBIOME
Gladskin has developed a Scrub for sensitive skin. It is microbiome friendly and contain a minimal number of ingredients and no preservatives, helping to maintain the balance of your skin.
This makes them ideal for use in combination with our Medical Devices.
HYDROGENATED POLYDECENE, GLYCERIN, MICROCRYSTALLINE CELLULOSE, SUCROSE PALMITATE, TOCOPHERYL ACETATE.
Is Gladskin Scrub environmentally friendly?
Gladskin Scrub's microcrystalline cellulose grains are environmentally friendly as they come from natural sugar polymers and are biologically degradable.
Can I use Gladskin Scrub daily?
Using a gentle exfoliating scrub 1-2 times a week is sufficient to remove dead skin cells and improve skin texture. Over-exfoliating can cause skin irritation and sensitivity, so it is recommended to stick to exfoliating twice a day.
Routine of using
1. EXFOLIATE
Exfoliate and remove dead skin cells from the surface of the skin in a gentle and non-irritating way.
2. CLEAN
Achieve a perfectly cleansed and hydrated skin with Gladskin Face Wash With its specially gentle yet effective formula remove impurities, and excess oil from your skin, while delivering a boost of hydration and nourishment.
3. TREAT
Looking for a reliable solution to ease the pustules and inflammation caused by acne? Treat your acne symptoms by applying a thin layer of ACNEFEKT Gel on and around the affected areas 2 to 3 times a day.
3. MOISTURISE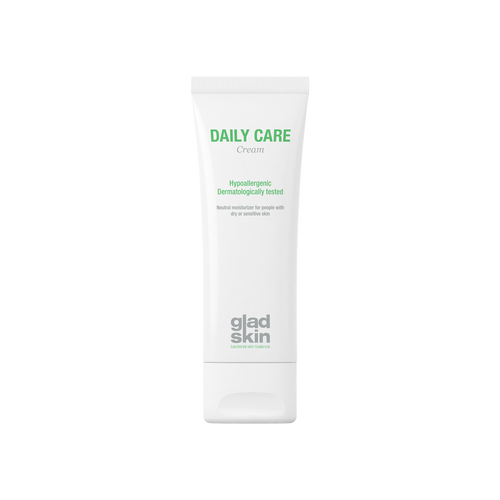 Incorporating a gentle yet effective moisturizer like Gladskin Daily Care into your daily routine can help you achieve and maintain healthy, radiant skin. Simply apply a thin layer to your face and gently massage it in until the product is fully absorbed.