HIGH TOLERANCE FORMULA
Gladskin Face Wash is microbiome friendly, its minimal formula is adapted for effectively cleaning sensitive skin. This product is soap-free, dermatologically tested and non-comedogenic.
ECZEMACT Cream is a medical device that  reduces eczema symptoms in only 7 days*. Our unique technology SA.100 targets the bad bacteria S. aureus which is often the cause of eczema symptoms. Our cream is free of everything that could disrupt your skin's microbiome, which exacerbates eczema symptoms like itching, redness, and flakiness, instead leaving your dry skin moisturized and healthy.
*Moreau M, et al. (2021). Topical S. aureus-targeting endolysin significantly improves symptoms and QoL in individuals with atopic dermatitis. J. Drugs Dermatol. 20(12), 1323-1328.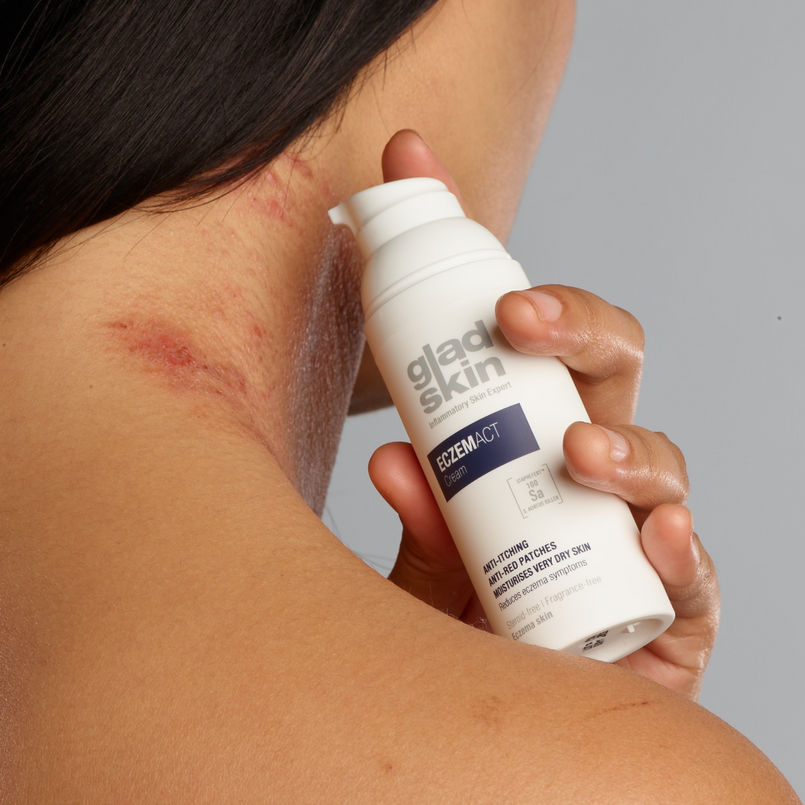 TEXTURE
ECZEMACT Cream's non-greasy silky texture provides long lasting nourishing and healing actions. 
Face Wash has a silky gel to milk texture, the liquid gel smoothly turns into a milk-like texture when in contact with water.
HOW TO USE THE ECZEMACT FACE CARE SET
WHEN TO USE
To be used as part of your daily and/or nightly skincare routine.
HOW TO USE
1. Apply Gladskin Face Wash with wet hands to dry or slightly damp skin. Massage gently and rinse with lukewarm water. 
2. Apply a thin layer of Gladskin ECZEMACT Cream on and around the affected areas with eczema.
3. Let the product dry 5 to 10 minutes before applying any other products on your skin.
TIPS
ECZEMACT Cream is safe for use on sensitive areas like eyelids. For best results, keep this product refrigerated.
Gladskin Face Wash was developed to be used on sensitive skin. The gel combines with excess oils and dirt on your skin, when in contact with water, the gel turns into a milky substance that gently rinses off dirt and debris off your fragile skin. Fresh gel to milk minimal formula that effectively cleanses and soothes sensitive skin. Perfume-free, alcohol-free and soap-free formula hydrates fragile skin and is free of any surfactants that can dry out your skin.
Gladskin ECZEMACT Cream is proven to have a reduction in eczema symptoms. Gladskin ECZEMACT Cream is a cream that reduces redness, itching, and discomfort caused by eczema. Our clinical studies show that 91% of subjects confirmed a reduction in their eczema symptoms in only 7 days. 98% confirmed their sleep quality was improved after 7 days of using our emollient cream and 95% reported a significant improvement in their quality of life after 14 days of treatment.
ECZEMACT CREAM EFFICACY CLINICALLY PROVEN
*Moreau M, et al. (2021). Topical S. aureus-targeting endolysin significantly improves symptoms and QoL in individuals with atopic dermatitis. J. Drugs Dermatol. 20(12), 1323-1328.
NEW TYPE OF TREATMENT
New strategies for the treatment of bacterial infections are needed, as resistance is emerging against established antibiotics. There is no other targeted treatment for bacterial infections. Antibiotics kill not only the unwanted bacteria but also the beneficial ones living on and inside our body, and their use can cause side effects and induce the development of resistance.
IMPORTANCE OF PRESERVING OUR MICROBIOME
Nature designed your skin with a built-in security system your skin microbiome. Just like your gut, your skin has an active microbiome - billions of bacteria that live on its surface. Almost all of these bacteria are good and contribute to a healthy skin. They should be left intact. When bad bacteria take over, many common skin problems arise. So it is important to choose skincare that protects your skin's microbiome.
S. aureus THE BAD BACTERIA
Some bacteria like the Staphylococcus aureus (S. aureus) can cause problems. The scientific community acknowledges that S. aureus is often over present in case of skin inflammation. These bad bacteria can cause or aggravate the eczema symptoms and damage your skin barrier.
STAPHEFEKT™  THE BREAKTHROUGH THAT TARGETS AND KILLS S.aureus
Staphefekt™ specifically targets Staphylococcus aureus, including strains that are resistant to antibiotics such as MRSA (Methicillin-resistant Staphylococcus aureus). Thanks to its bacterial specificity it leaves beneficial bacteria unharmed, which is especially important in case of longer term use.
Endolysins are bacteria-killing enzymes that originate from bacteriophages (phages), the natural enemy of bacteria. Both have been around for billions of years. The Staphefekt™ endolysin exhibits two additional useful characteristics to combat bacterial infections: rapid killing of bacteria and very limited likelihood of emerging resistance.
GLADSKIN MEDICAL DEVICES CONTAIN SA.100 (STAPHEFEKT™) AND THEN REDUCE YOUR ECZEMA SYMPTOMS
This is a new era in the treatment of skin conditions that can reduce your eczema symptoms.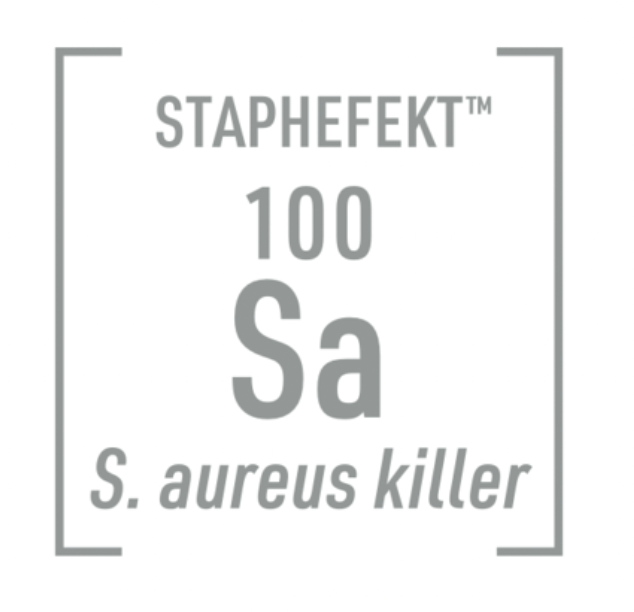 HIGH TECH BOTTLE
ECZEMACT Cream is specifically designed to restore your skin's microbiome, from the cream itself to the packaging it comes in. Our high tech bottle means no preservatives necessary. Designed to keep out everyday germs so we don't have to add skin-irritating preservatives to kill them. Preservatives kill good bacteria too, damaging your skin's natural microbiome.
SHELF LIFE AND STORAGE
The expiration date of ECZEMACT Cream is indicated on the dispenser. For an optimal benefit of the main ingredient in Gladskin ECZEMACT Cream, we recommend you store the product in the refrigerator. Gladskin ECZEMACT Cream should not be stored at temperatures below 0°C or above 25°C.
ECZEMACT CREAM - AQUA, GLYCERIN, VASELINUM ALBUM, CERA CETOMACROGOLIS EMULSIFICANS, PARAFFINUM LIQUIDUM, ARGININE HCL, SODIUM CHLORIDE, TROMETAMOL, STAPHEFEKT™ SA.100, CALCIUM CHLORIDE.
FACE WASH - HYDROGENATED POLYDECENE, GLYCERIN, SUCROSE PALMITATE, TOCOPHERYL ACETATE.
MORE INFORMATION ABOUT THE PRODUCTS IN THE ECZEMACT FACE CARE SET
FACE WASH
Gladskin Face Wash is carefully formulated for sensitive skin. Our face wash is free of fragrance, preservatives and harsh soaps. Cleans and hydrates the skin to prevent skin tightness. Learn more about Face Wash
ECZEMACT Cream
ECZEMACT Cream is a medical device that  reduces eczema symptoms in only 7 days. Our unique technology SA.100 targets the bad bacteria S. aureus which is often the cause of eczema disorders: itching, dryness, redness. Learn more about Eczemact Cream