HIGH TOLERANCE FORMULA
Our soap-free, fragrance-free and preservative-free formula gently cleanses and hydrates sensitive skin. 
For optimal effect, Gladskin Body Wash is formulated with specific ingredients to be used in combination with Gladskin products containing Staphefekt™ for treating skin problems such as Eczema, Rosacea and Acne. Also suitable for people with allergic or sensitive skin.
TEXTURE
When applied to damp skin, Gladskin Body Wash creates a rich foam that spreads easily and cleanses the skin gently.
WHEN TO USE
Suitable for daily use.
HOW TO USE
1. Apply onto wet skin and lather until a foam is produced
2. Rinse off with lukewarm water
3. Gently pat dry your skin
TIPS
For optimal effect of your skin treatment, use complementary to active Gladskin products, containing the enzyme Staphefekt™, for inflammatory skin problems.
Gladskin Body Wash contains minimal ingredients for your sensitive skin. Typically formulated to be gentle and non-irritating. It is free of harsh ingredients and fragrances that can irritate sensitive skin. The end result is skin that feels clean, refreshed, and moisturized.
Fragrance-free, preservatives-free and soap-free formula hydrates fragile skin and is free of any surfactants that can dry out your skin.
IMPORTANCE OF PRESERVING OUR MICROBIOME
Nature designed your skin with a built-in security system your skin microbiome. Just like your gut, your skin has an active microbiome - billions of bacteria that live on its surface. Almost all of these bacteria are good and contribute to a healthy skin. They should be left intact. When bad bacteria take over, many common skin problems arise. So it is important to choose skincare that protects your skin's microbiome.
GLADSKIN BODY WASH RESPECTS THE SKIN MICROBIOME
Gladskin has developed a Body Wash for sensitive skin. It is microbiome friendly and contain a minimal number of ingredients and no preservatives, helping to maintain the balance of your skin.
This makes them ideal for use in combination with our Medical Devices.
INGREDIENTS IN THE BODY WASH
GLYCERIN, DECYL GLUCOSIDE, AQUA (WATER), LACTIC ACID.
Glycerin can help the skin to retain moisture. It can increase skin hydration, relieve dryness, and refresh the skin's surface. 
Is Gladskin Body Wash tested on animals ?
Gladskin does not test its products on animals.
Is Gladskin Body Wash suitable for my skin type?
Gladskin Body Wash is formulated with minimal ingredients to effectively cleanse all skin types of excess oil and dirt without stripping the natural skin barrier.
Routine of using
CLEAN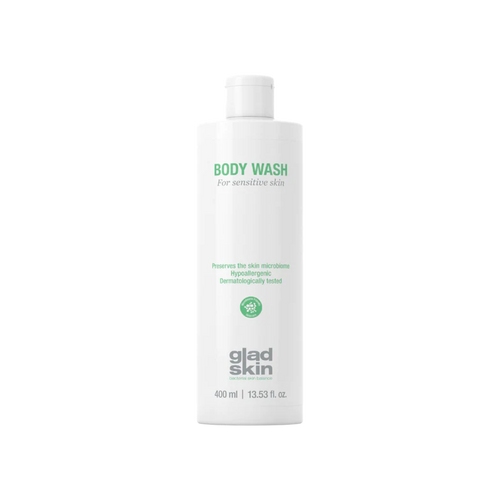 Make sure your sensitive skin is getting the gentle care it needs with Gladskin Body Wash. Cleanse and hydrate your skin without worrying about any harsh chemicals or fragrances. Learn more about Body Wash
TREAT
Looking for a reliable solution to ease the discomfort and itchiness caused by eczema? Treat your eczema symptoms by applying a thin layer of ECZEMACT Cream on and around the affected areas 2 to 3 times a day. Learn more about Eczemact Cream
MOISTURISE
Developed with eczema-prone skin in mind, ECZEMACT Body Lotion features a high tolerance formula that provides immediate and intensive moisturizing action, giving you the long-lasting hydration you need to keep your skin looking and feeling its best. Learn more about Eczemact Body Lotion